Convert Tidal Music to FLAC
No matter which streaming music service we use, audio quality is always one of the most important factors we should take into consideration. For large portion of music listeners, 320kbps MP3 or 256kbps AAC (M4A) is good enough. Most of them don't listen to music with professional or expensive HiFi speakers, because either the HiFi system is too expensive or users cannot tell the audio quality difference between normal high quality and HiFi quality. However, for those users who are familiar with HiFi speakers and who can easily perceive the audio quality difference, they often enjoy lossless audio instead. And Tidal music is the excellent option for them.
Tidal is the first company who provides lossless streaming music service. Though Tidal's market share is less than Spotify, Apple Music, etc. it still won a lot of users, especially who prefer to lossless audio quality. Tidal HiFi streams music with FLAC format (16bit / 44.1kHz) at up to 1411kbps which equals to CD quality while Tidal HiFi Plus streams music with FLAC format (24 bit / 192 kHz) at up to 9216kbps without using no more bandwidth. Besides, Tidal HiFi Plus users can also enjoy other features like Master Quality Audio, Dolby Atmos and Sony 360 Reality Audio.
However, Tidal songs can be only downloaded on smart devices like iPhone, iPad and Android. You can't download Tidal songs on computer. Maybe you think you can download the FLAC files on mobile, then transfer the songs to your computer. Unluckily, this method is not feasible as well. Because downloaded files on mobile devices are protected cache files and they are encoded in Tidal proprietary format. If you want to convert Tidal music to FLAC, probably you need a professional Tidal to FLAC converter.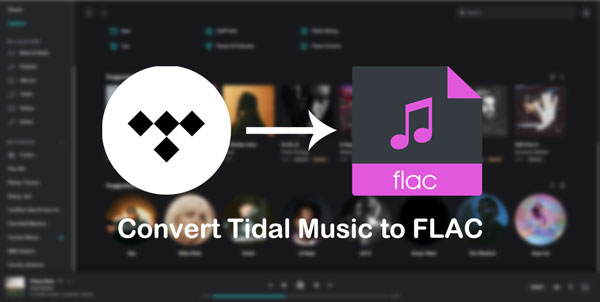 In this article, we will introduce FLAC format and Tidal music quality, as well as introduce AudGeek TidiTune Converter which is a great Tidal music converter and which can help you convert Tidal music to FLAC files in only a few clicks.
Part 1. Basic FLAC Knowledge You Should Know
FLAC is the abbreviation of Free Lossless Audio Codec. FLAC is a well-known free audio compression codec, which is characterized by lossless compression. Unlike other lossy compression codes such as MP3 and AAC, it does not destroy any original audio information, so it can restore the sound quality of music discs. It has been supported by many software and hardware audio products (such as CDs, etc.) since 2012.
FLAC can be compressed losslessly, which means that no information will be lost after the audio is compressed with FLAC encoding. If you restore the FLAC file into a WAV file, the content of the WAV file will be the same as the one before compression. This compression is similar to ZIP, but FLAC has a higher compression rate than ZIP and RAR because FLAC is a compression method specially designed for the characteristics of PCM audio. And you can use all kinds of audio players to play FLAC compressed files directly, just like MP3 files are usually played.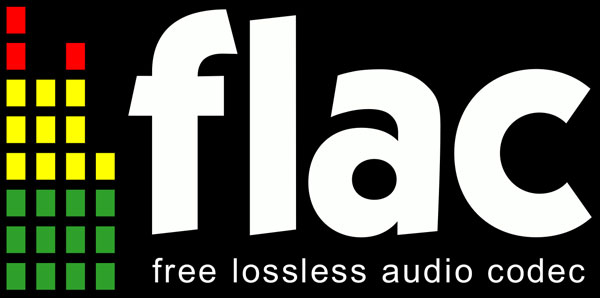 There are many car players and home audio equipment that support FLAC, you can find links to these equipment manufacturers on the FLAC website. As to MP3 players, though more and more models like Sony Walkman support FLAC, you should be aware of that Apple's iPod doesn't support FLAC. It will be a great listening experience when good headphones or HiFi speakers to enjoy FLAC music.
FLAC is free and supports most operating systems, including Windows, systems based on Unix Like kernels (Linux, BSD, Solaris, IRIX, AIX, etc.), BeOS, OS/2, Amiga. And FLAC provides a build system on the development tools like autotools, MSVC, Watcom C, Project Builder, etc.
---
Part 2. The Differences among Tidal Free, Tidal HiFi and Tidal HiFi Plus
Tidal provides three tiers which are Tidal Free, Tidal HiFi and Tidal HiFi Plus, and the most distinct difference is audio quality. Let's check audio quality of each tier below. No matter which tier you use, you can enjoy more than 90 million songs on Tidal. Tidal's music library is as impressive as other streaming music services.
| Audio Quality Options / Tidal Tier | Tidal Free | Tidal HiFi | Tidal HiFi Plus |
| --- | --- | --- | --- |
| Standard (Up to 160kbps AAC) | | | |
| HiFi (Lossless, 1411kbps, 16bit/44.1kHz) | | | |
| HiFi Plus (Hi-res Lossless, 9216kbps, 24bit/192kHz) | | | |
| Master Quality Authenticated (MQA) | | | |
| Dolby Atmos | | | |
| Sony 360 Reality Audio | | | |
Like other streaming music services, Tidal Free tier also comes with limitations like ad-supported, limited skip, online playback only, etc. Let's check the feature differences among the three tiers.
| Tidal Tier | Tidal Free | Tidal HiFi | Tidal HiFi Plus |
| --- | --- | --- | --- |
| Price | Free | $9.99 / month | $19.99 / month |
| Ad-free | | | |
| 90 million songs | | | |
| 450 thousand videos | | | |
| Offline playback | | | |
| Unlimited skips | | | |
| TIDAL Connect | | | |
| Track and share your listening habits | | | |
| Direct Artist Payouts | | | |
| Fan-Centered Royalties | | | |
| Expert curated playlists | | | |
Tidal Connect enables Tidal HiFi users to listen in HiFi on supported devices and enables Tidal HiFi Plus users to listen in all innovative and immersive audio formats on supported devices. Direct Artist Payouts means that up to 10% of your subscription is directed to the artists you listen to the most. Fan-Centered Royalties allows the artists you stream get paid based on your streaming habits.
However, the biggest problem is that you can't download Tidal music to your computer for offline playback. We all know that computer performance is much better than mobile for enjoying high quality music. Don't worry, you can use a professional Tidal to FLAC converter introduced below to solve this problem.
---
Part 3. AudGeek TidiTune Converter: Powerful Tidal to FLAC Converter
AudGeek TidiTune Converter is a powerful Tidal Music downloader and converter which comes with intuitive and user-friendly interface, fast conversion speed, high-quality output, rich features and flexible options. It can easily help you convert Tidal Music to FLAC regardless of Tidal plan. That is to say, AudGeek TidiTune Converter supports all Tidal plans including Tidal Free, Tidal HiFi and Tidal HiFi Plus.
AudGeek TidiTune Converter: Convert Tidal Music to FLAC
AudGeek TidiTune Converter is an ideal software solution to convert Tidal songs, albums and playlists to FLAC for better listening experience on PC and various devices.
Convert Tidal songs, albums and playlists to FLAC at 20X faster speed.
Convert Tidal to FLAC with a built-in Tidal web player without installing Tidal app.
Keep music information like title, album, artist, track number and artwork in output files.
Rename output FLAC files by title, album, artist, track number, hyphen, space, etc.
Sort output FLAC files into album, artist, album/artist or artist/album folders as you like.
Before purchasing, we highly recommend you download the free trial version to have a test first. The free trial version can only convert 3 files at a time and can only convert 3 minutes for each file. If you are satisfied with the features and output files, you can purchase a license to get a registration code to unlock the limitations and enjoy all wonderful features.
---
Part 4. Easy Guide of Converting Tidal Music to FLAC with AudGeek TidiTune Converter
AudGeek TidiTune Converter is specially designed for Tidal users to convert Tidal songs, albums and playlists to MP3, M4A, FLAC, WAV or AIFF. If you need to convert Tidal music to FLAC, it's definitely a good choice. Converting Tidal music to FLAC with this tool is just as easy as a breeze, what you need to do is only several steps with a few clicks.
Step 1

Log in Tidal Account on AudGeek TidiTune Converter

Launch AudGeek TidiTune Converter after installing it, and you will see a built-in Tidal web player and "Log In" button as well as hint message in the upper left corner. Click "Log in" button to enter your Tidal account and password.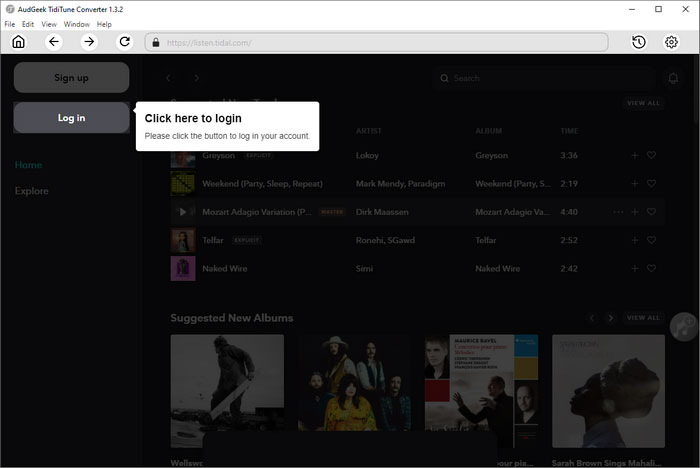 Step 2

Choose FLAC output format

AudGeek TidiTune Converter provides several output formats including FLAC, but FLAC is not the default output format. After logging in built-in web player, you can click the gear icon at the upper right to open Settings dialog, then choose FLAC output formats. There are also some other useful options like renaming and organizing output files, you can adjust them according to your need.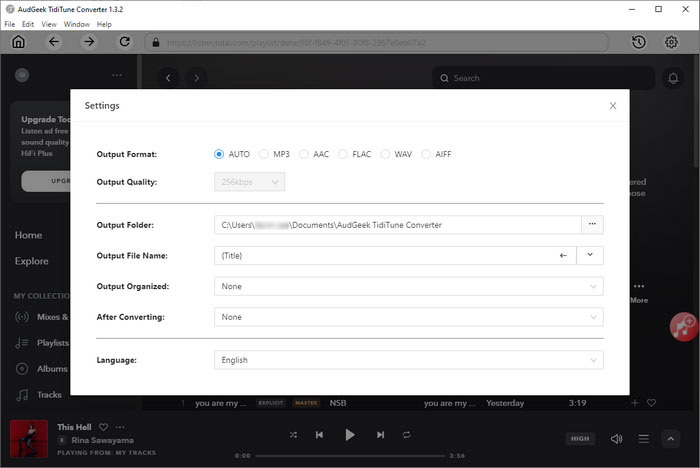 Note: If you want to locate the output FLAC files after conversion, you can select "Open the output folder" in "After conversion" list.
Step 3

Add album or playlist to conversion list

If this is your first time to use this Tidal music converter, there should be on-screen instructions. But you can also simply open the detail page of your favorite album or playlist, then move the mouse to the button in the middle right, and click "Add to list" to add the songs in the album/playlist to conversion list.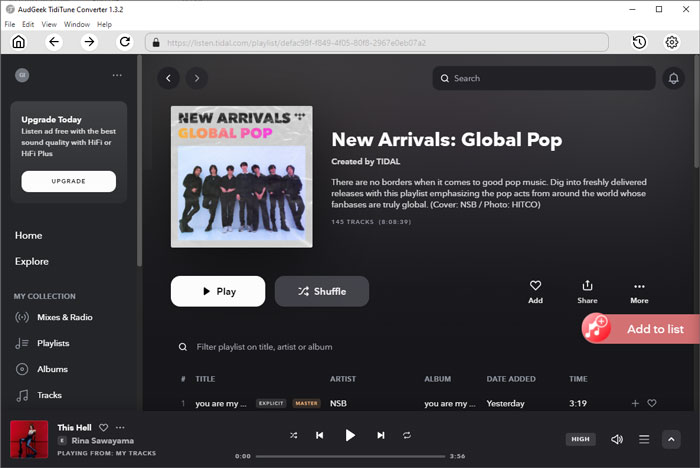 Step 4

Start Tidal to FLAC conversion

Now the program will list all the songs in checked status with music information like title, artist, album, duration and artwork thumbnail. You can uncheck any songs you don't want to convert to FLAC. When everything is ready, simply click "Convert" button to start Tidal to FLAC conversion. You will soon get the output FLAC files because of incredible 20X faster conversion speed.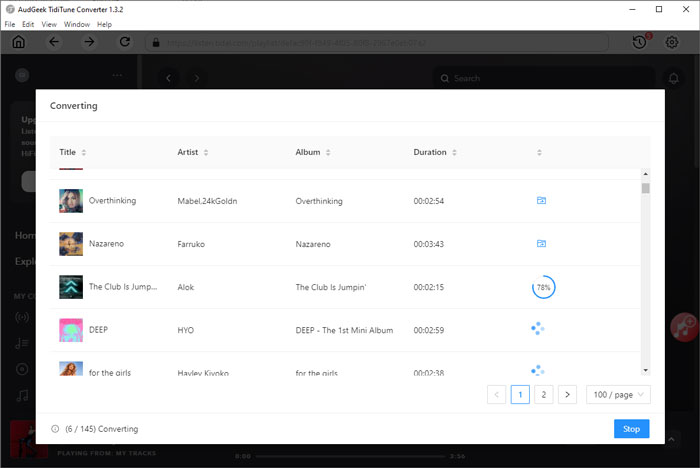 After converting the Tidal songs to FLAC files, you can open output folder to locate the output FLAC files, add them to your favorite audio playback software to start playing with your HiFi speakers. You can keep those output FLAC files on your computer and keep enjoying them even after you have cancelled Tidal HiFi or Tidal HiFi Plus.
---
Bottom line
As Tidal provides lossless audio streaming, it requires a fast internet connection. If you have subscribed Tidal music, but your internet connection is kind of slow, the best solution is download Tidal music as FLAC files. When playing output FLAC files offline, you don't need to stream Tidal, thus the bandwidth can be used for some other applications and purposes. And you will never lose your favorite albums and playlists after you unsubscribe Tidal HiFi or Tidal HiFi Plus plan. You can also use the output FLAC files to burn audio CD, use in video editing programs or apps, etc. That is to say, converting Tidal music to FLAC brings lots of benefits.
If you are using Tidal HiFi or HiFi plus, and want to save the songs as FLAC, do not hesitate to download AudGeek TidiTune Converter to have a try.